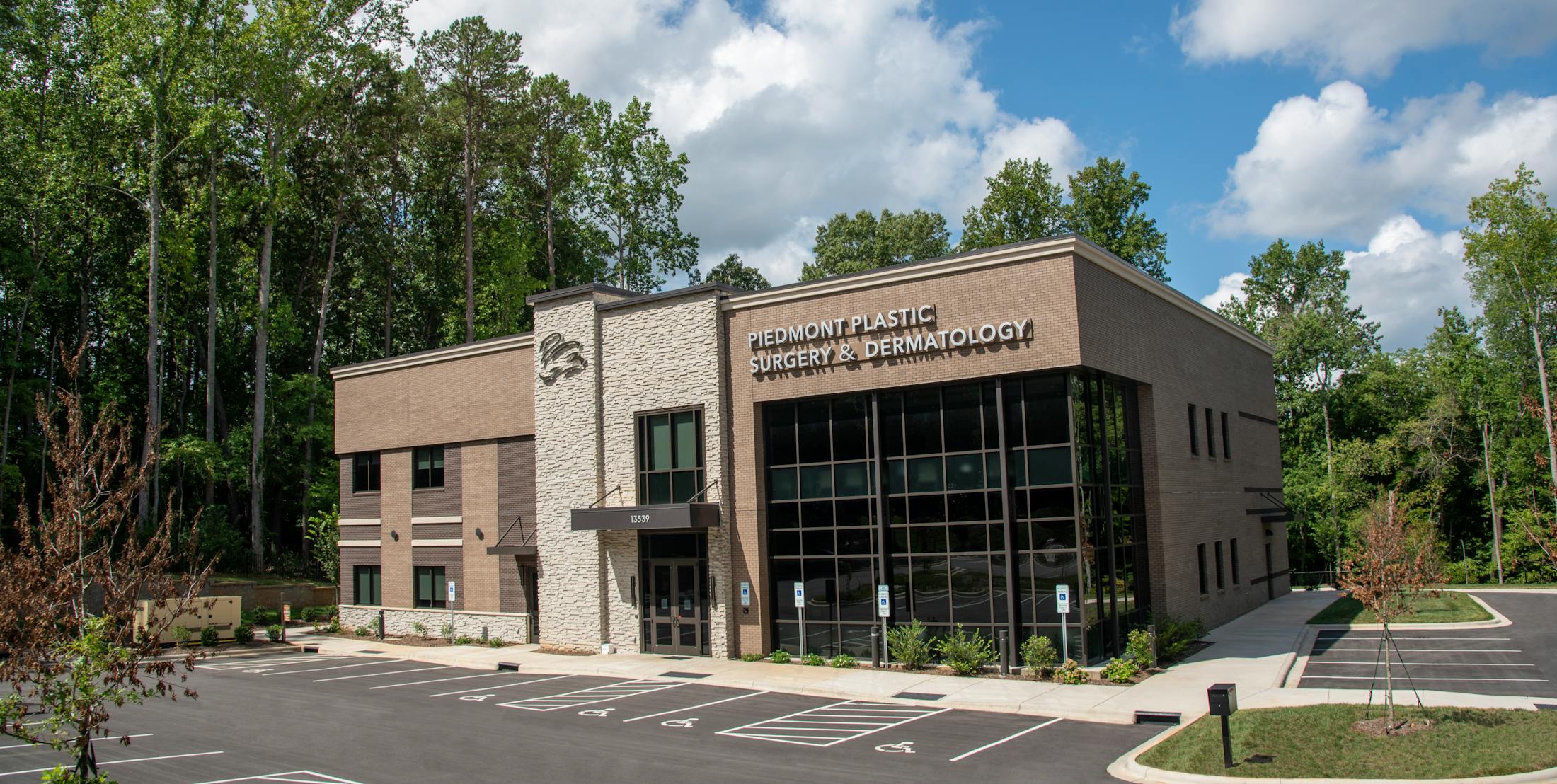 Huntersville
Address
13539 Reese Blvd W.
Huntersville, NC 28078
Map
Hours: Monday - Friday: 8:00am - 5:00pm
Services Offered at this location:
Providers at this location
Welcome To Huntersville, NC!
Whether you were born and raised in Huntersville, a new resident, or a visitor, we are here to service you! With convenient full-service locations throughout North Carolina, it has never been easier to schedule an appointment and get the help you need – without a long drive!
Our Mission
Here at Piedmont Plastic Surgery and Dermatology in Huntersville, we think that everyone deserves professional, comfortable, and competent care. We believe that people should have a friendly name that they can trust – like the old family doctor who once lived just down the street. However, with medical advances moving forward at a rapid rate, we realized that one or two physicians and surgeons weren't going to be enough, and we had to think bigger.
Piedmont Plastic Surgery & Dermatology was born from this idea, and with the largest network of physicians and surgeons under one name the nation, we are proud to say that we accomplish our mission daily. Our patients are our friends and trust us to steer them right, giving them the treatments and help that they need.
Effective Dermatology
With the rapid scientific advances in the subject of medicine, it is easy to get confused and lost in the vast array of skincare products and services. Each service and product touts its advantages, and without experience, each one sounds like the best. This is when our board-certified professional dermatologists come in. They start with a comprehensive examination and analysis of your skin, and then based on expert knowledge and experience, they can recommend and direct you to the service that will best address your skin – not just promote one or two products. With our extensive network of dermatologists, we can provide a wide range of both common and niche services – whichever is best for you. Our range of services includes:
Plastic Surgery To Restore Your Confidence
Personal confidence is tied to your physical appearance. Sometimes, through age, accident, or an inherited feature, your body is not quite the way you want it. This is when plastic surgery can do wonders for you. Despite the bad name that it has earned in some media, the goal of plastic surgery is to either correct natural faults or to enhance your existing beauty. With the technology available today in the hands of the talented surgeons at PPSD, you can expect natural results that restore your inner confidence. We offer a wide range of services, including breast augmentations, breast lifts, liposuction, tummy tucks, mommy makeovers, facelifts, and rhinoplasty.
CoolSculpting – the nonsurgical alternative to sculpting your body
If you are actively trying to sculpt your body through diet and exercise but can't quite get those stubborn pockets of fat to burn off, then CoolSculpting may be the perfect answer for you. Designed to get rid of stubborn fat on the body and sculpt it to the ideal shape, CoolSculpting utilizes advanced technology to freeze those stubborn fat cells, at which point they die and are flushed out of your system naturally. The system is designed to target only fat cells, so the surrounding muscle and skin are safe and unharmed during the procedure.
Why Choose Us
We are different than a typical plastic surgery and dermatology clinics – we don't rely on the experience and knowledge of just one principal physician. We utilize our network professionally trained and competent physicians to provide the best service to treat your particular concern. You can be confident that you will be in the hands of total professionals – from the office staff to the surgeons, we vet all of our team for only the highest qualifications and standards. If you wish to learn more, contact us today and schedule a consultation with some of the best plastic surgeons and dermatologists Huntersville has to offer.
Book Online
Choose one option below: