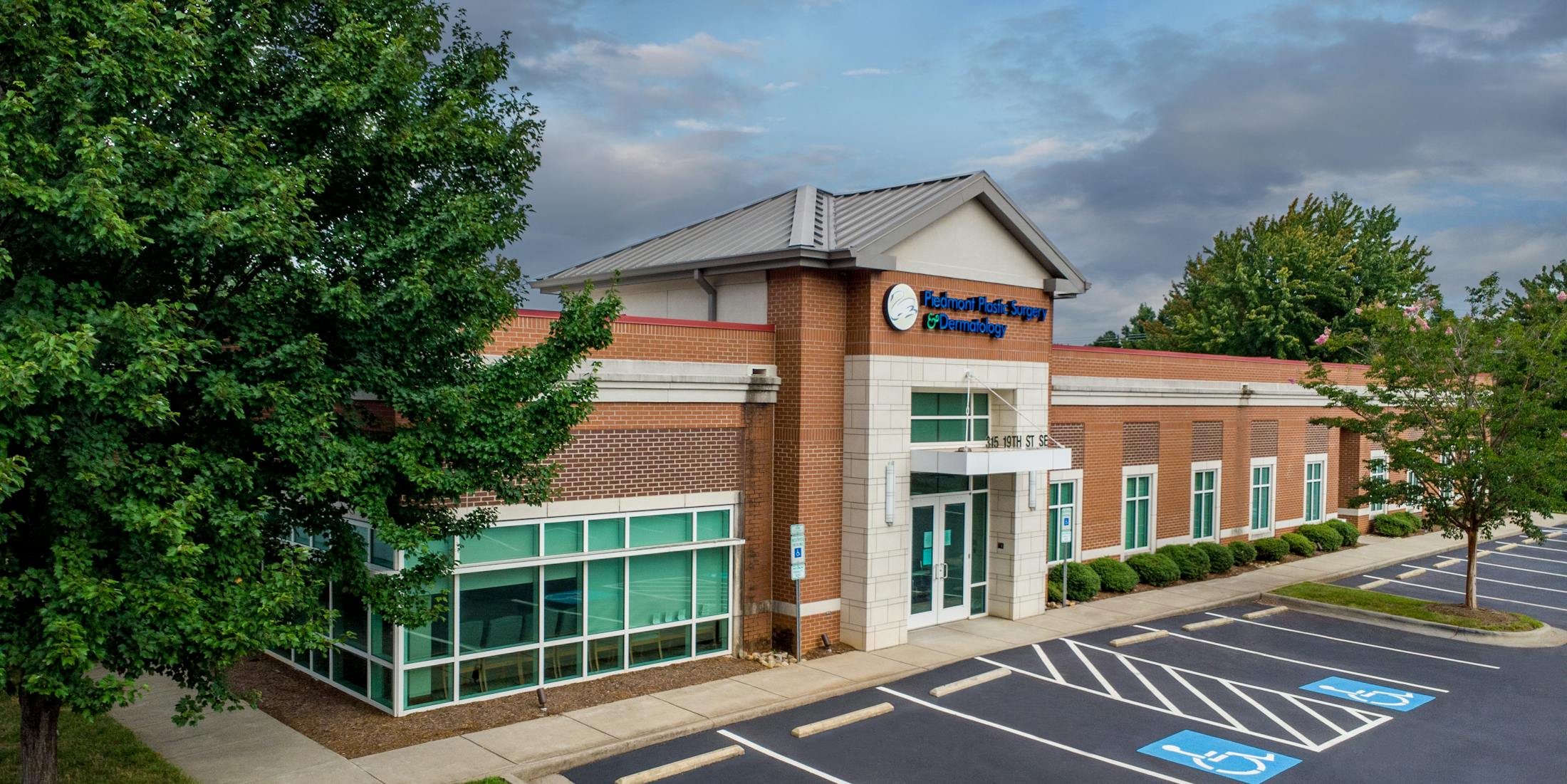 Hickory/Tate Blvd. Building 100
Address
315 19th St. SE, Building 100
Hickory, NC 28602
Map
Hours: Monday - Friday: 8:00am - 5:00pm
Services Offered at this location:
Providers at this location
Congratulations On Choosing Our Hickory/Tate Blvd. Location!
We at PPSD are excited to meet you. With nine convenient full-service locations to choose from, scheduling your first appointment has never been easier. Located at the base of the beautiful Blue Ridge Mountain range, the peaceful town of Hickory is known for its lovely views and abundant hardwood furniture outlets. In addition to the mountains, Lake Hickory also offers pristine vistas and wonderful opportunities to experience wildlife, including ducks, herons, kingfishers and eagles.
A Paradigm Shift In Cosmetic Transformation
PPSD came about as a quest to offer the highest level of service combined with the largest selection of cosmetic treatment modalities available. We culled the top surgeons and dermatologists in the nation to assemble a team of dedicated, passionate physicians who would use their specialized knowledge and skill to solve your biggest cosmetic challenges. As we continue to expand, however, we constantly redouble our efforts to provide that all-important individualized attention and care found at smaller, niche boutique offices. The result is an outstanding full-service Hickory plastic surgery and dermatology practice that delivers the best of all worlds.
Hickory's Leading Authorities In Plastic Surgery
Get ready to experience radical, empowering change from head to toe. Men and women from all over the North Carolina region and beyond choose PPSD for its unsurpassed level of professionalism, gorgeous results and wide range of focus areas. For those seeking improvement in the breast area, we offer breast augmentation, breast lift, breast reduction, and gynecomastia surgery, a dynamic treatment to sculpt and refine the male physique. If you are looking to tone, trim and slenderize the torso, our doctors provide popular procedures such as the tummy tuck, mommy makeover, and liposuction, all with minimal downtime and discomfort. Facial procedures at PPSD include facelifts, blepharoplasty, neck and brow lifts, facial implants, ear surgery, fat transfer and rhinoplasty.
Unparalleled Leaders In Skincare
When you entrust your skin, hair and nails to our team, you get the benefit of the brightest board-certified dermatologists in the nation along with an unprecedented selection of cutting-edge technologies customized to fit your unique lifestyle and needs. We are proud to offer the full gamut of laser treatments, including laser hair removal, vein therapy, age spots, and brown spots. We also offer laser treatments for psoriasis, vitiligo, and the removal of pre-cancerous spots. In addition, our doctors specialize in treating the signs of aging with next-level injectables such as Kybella, Radiesse, Voluma and Botox.
Mohs Surgery
For Hickory skin cancer patients, our expertise in Mohs reconstruction is unparalleled. We work with local referring physicians to create a base of support, knowledge and solutions you won't find elsewhere. Prevention is also important to us. Our dermatologists and Mohs surgeon focus on educating patients and providing a vast spectrum of resources that can assist the community.
Recovery In The 21st Century
Today's patient faces less scarring, downtime, and discomfort than ever before in history, thanks to our ever-evolving surgical techniques, advanced equipment and state-of-the-art facilities. From pain medication to a full aftercare plan, our doctors make sure your recovery is swift, pleasant and incident-free.
Book Online
Choose one option below: